[2012002] Music to Watch Boys By [FringeTIX]
Carol Young @ La Bohème
10:00pm, Thu 16 Feb 2012
After the joyous Gady LaLa, my Fringe Buddy and I looked at each other – should we stay for the next show? As we tend to do when faced with this decision, we went with the prevailing vibe; two tickets were swiftly bought, and we settled back in our chairs to savour the rest of the bubbles and cheese platter. Soon, though, we were asked nicely to exit the venue – show changeover, Annie explained. Sure, we responded; can you save our seat for us? No problems, she replied.
So out into the night air we went. We hear the 'Garden's opening night fireworks go off in the distance. The Louis Bouillot dries up, the last of the platter is consumed; we turn to re-enter La Bohème and discover a bubbling throng of people already inside. We sneak through, anxious for our preferred seat: we get there to discover a friendly "Reserved" sign. Awww, sweet :)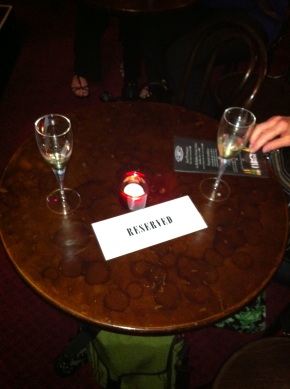 Renato – my instructor from a TheatreLabs workshop I attended late last year – shows up, and we have a quick catch-up and chat.
Carol Young eventually ambles onstage after taking surreptitious photos of the bubbling crowd – right from the start, it seems, she's getting her creep on. A quick introduction while she dons her accordion – "stalking is just another way of saying 'I love you'", she claims – and she launches into a series of perspective-changing songs, linked by short bursts of narrative that reveal her lifetime of stalking (and focussed mainly on the suburban pursuit of John – "not his real name", as the voiceovers constantly insist).
Sure, some of the songs – Every Breath You Take, for example – have a well-known obsessive streak to them; but Young's take on I Was Made For Loving You and Let's Stick Together (which, sadly, failed to elicit the requested jungle-girl screams from the audience) managed to imbue them with a surprising creepiness.
But it's very much played for laughs. Young's presence on stage is completely bereft of pretension; she's there to have as much fun as the audience, and the more theatrical portions of her act – the lustful stares (or was it glares?) into the audience, the serenading (or was it smothering?) of a guy in the audience (and the corralling of his girlfriend) – were beautifully weighted. And those orange wedge heels of hers, subject to their own dedication? Gorgeous.
Look, Music to Watch Boys By is not a gleamingly polished show. Carol Young can sing pretty well. She frequently mis-fingers the accordion. She forgets words to songs (Hello – "Are you somewhere feeling lonely? Or is… some other word?"). Her headset microphone was constantly slipping underneath her chin. But her complete lack of pretension, and her complete commitment to the bit, makes it so much fun.
And, with a room chock full of family (including the sole Jungle Girl, Aunt Winnie) and friends who really bring the noise with jaunty laughs and croons in Delilah, it was incredibly easy to get swept up in the joy of this show. Brilliant stuff, Ms Young!