The Penultimate Show of FF2007 for me was supposed to be Marat/Sade at the Xspace Theatre off Light Square; I was really looking forward to it, and the 90 minute duration left me a skinny 15 minutes to walk around the corner to see my final show at The Black Lung. As is usually the case when my changeover times are tight, I checked with the blokes on the door as to how the show was running for time.
"What time did the show finish up last night?" I queried.
"Oh… about 10:15. More like 10:20," the chap replied.
This was a long way from the response of "9:15" that I was expecting… "Are you sure?" I pushed. "It's only supposed to go for 90 minutes."
DoorGuy looked at me like I'd just requested carnal knowledge of his daughter. He rubbed his beard and shoved some nondescript paper towards me, pointing at print too small to feasibly read. "Look, the first act is a bit over 90 minutes, then there's a fifteen minute break, then the second act's another half-an-hour."
Ah.
Fuck that, then.
Given the choice of "interesting show that I'd like to see," versus "final show of the Fringe with the friendly theatrical misfits who've delivered hit after hit," I opted for the latter. I whinged like a whiny puss to DoorGuy about crapulent information in The Guide (knowing full well that he could do nothing about it, and that Issues such as Accurate Durations affect all of four Fringe-Goers), got as huffy as I wearily could, and wandered to The Black Lung early.
And, in the pre-show lull, it felt like home. Even to a scruffy, wide-eyed, clean living chap such as myself, the coarse and grubby Black Lung crew were friends in this Fringey hubbub. I kicked back and chatted briefly with Tom and Genevieve, had a beer, and mused on The Wall: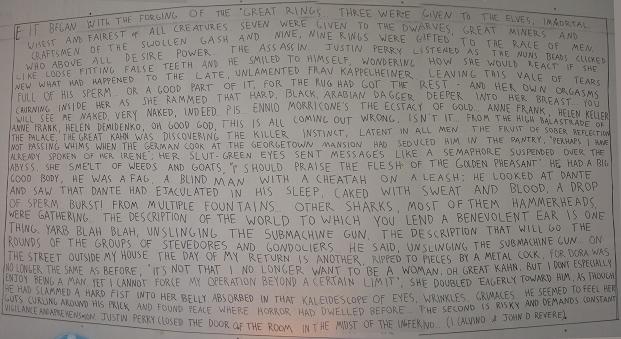 Since it's a nasty image (click for a slightly higher-res version), here's the glorious text:
It began with the forging of the great rings… three were given to the elves, immortal, wisest and fairest of all creatures. Seven were given to the dwarves, great miners and craftsmen of the swollen gash and nine, nine rings were gifted to the race of men, who above all desire power… The Assassin… Justin Perry listened as the nuns beads clicked like loose fitting false teeth. And he smiled to himself, wondering how she would react if she new what had happened to the late, unlamented Frau Kappelheiner, leaving this vale of tears full of his sperm… or a good part of it, for the rug had got the rest – and her own orgasms churning inside her as she rammed that hard, black, arabian dagger deeper into her breast… You will see me naked, very naked, indeed… P.15… Ennio Morricone's The Ecstacy of Gold… Anne Frank, Helen Keller, Anne Frank, Helen Demidenko, oh good God, this is all coming out wrong, isn't it… From the high balastrade of the palace, the great Kahn was discovering the killer instinct, latent in all men… the fruit of sober reflection not passing whims when the German cook at the Georgetown mansion had seduced him in the pantry, "Perhaps I have already spoken of her Irene"; her slut-green eyes sent messages like a semaphore suspended over the abyss, she smelt of weeds and goats, "I should praise the flesh of the golden pheasant". He had a big good body, he was a fag, a blind man with a cheetah on a leash; he looked at Dante and saw that Dante had ejaculated in his sleep, caked with sweat and blood, a drop of sperm… burst! From multiple fountains… other sharks, most of them hammerheads, were gathering… The description of the world to which you lend a benevolent ear is one thing, yarb blah blah, unslinging the submachine gun, the description that will go the rounds of the groups of stevedores and gondoliers… he said, unslinging the submachine gun… on the street outside my house the day of my return is another, ripped to pieces by a metal cock, for Dora was no longer the same as before, "It's not that I no longer want to be a woman, oh great Kahn, but I don't especially enjoy being a man, yet I cannot force my operation beyond a certain limit", she doubled eagerly towards him, as though he had slammed a hard fist into her belly. Absorbed in that kaleidescope of eyes, wrinkles, grimaces… he seemed to feel her guts curling around his prick and found peace where horror had dwelled before… the second is risky and demands constant vigilance and apprehension. Justin Perry closed the door of the room in the midst of the inferno… (I Calvino & John D Revere)
I chatted, I mused, I chatted, I drank, I saw Sugar for a second (wonderful) time, and I waited for the final act of FF2007.