[2015018] Trygve Wakenshaw's NAUTILUS – a work in progress
Trygve Wakenshaw @ Tuxedo Cat – Perske Pavilion
After seeing the evolution of Trygve Wakenshaw's Squidboy from 2012 to 2013, I resolved to check out his latest work – NAUTILUS – over the course of a single season. As a result, some of the first tickets I bought for the 2015 Fringe were those for the first and last performances of this self-described work in progress.
5:15pm, Sat 14 Feb 2015
I'm assuming that the small audience in attendance at this opening performance were well aware of what they were in for… but there was still a hint of nervous trepidation in the air as we filed into the Perske.
After a (surprisingly) ordinary entrance, Wakenshaw started… well, experimenting. It became clear very early on that NAUTILUS was not scripted in the slightest: sure, Trygve may have brought some ideas into the room with him, but the expression of those ideas felt unrehearsed. His imagination – and, to a large extent, our imagination – was being put to the test.
But it totally worked.
Over the space of ninety-odd minutes (words chosen carefully, there), Trygve showered with paint, wrapped an audience member in a quilt cover and drew a treasure map on her face (along with a slightly more problematic "I love cock"), mimed a chicken-crossing-the-road joke, and involved everyone in a game of Duck, Duck, Goose (which resulted in some extremely competitive behaviour). The shower scene, in particular, was a messy moment of genius, due to Wakenshaw's almost ridiculous feigned ignorance of the colour smeared across his face.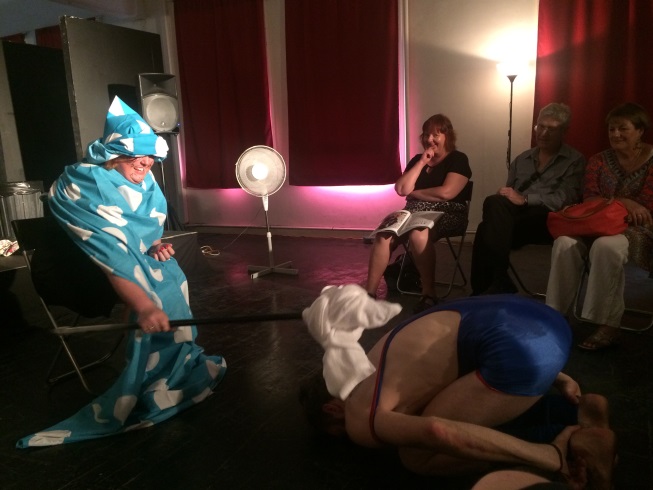 There was no real start, and no real end, to the performance… just a series of explorative vignettes, where the audience could genuinely feel the artistic endeavour taking place. Sure, not every idea worked – there were certainly moments where Wakenshaw would try to express an idea through mime, or pick up an object from the front of the stage, ruminate, then drop it whilst shaking his head and quietly muttering – but watching that creative process take place in front of me was immensely satisfying.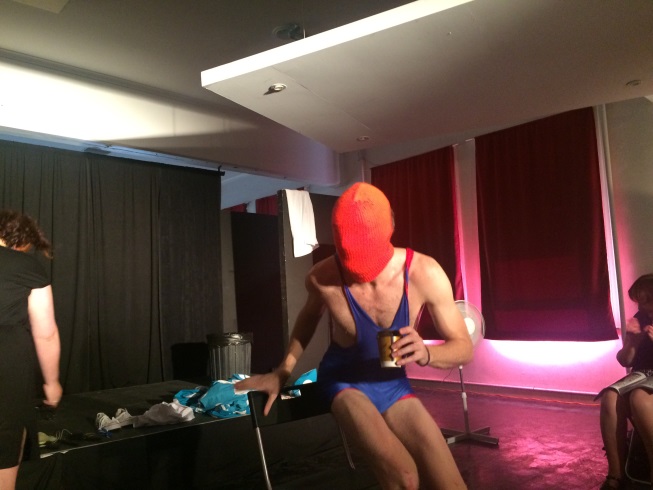 (18) Trygve Wakenshaw's NAUTILUS – a work in progress: Wow. RAW PHYSICAL COMIC CREATIVITY in your face. Amazing. #ff2015 #ADLfringe

— Pete Muller (@festivalfreakAU) February 14, 2015
5:15pm, Sun 15 Mar 2015
So, a month had passed since I first saw NAUTILUS, and so – on the last day of the Fringe – I returned to see how it had developed… which ideas had stuck, which had developed, which had been jettisoned.
And whilst a few scenes were common to both performances – the chicken crossing the road, the audience participation of Duck, Duck, Goose – there were a slew of new (to me) ideas on display: a lascivious wall sex sequence. An excessively eccentric orchestra conductor. A bizarre extended saloon sequence featuring a bird, a cat, a horse, a sheep knitting a sweater, a racist, and Fukushima(!).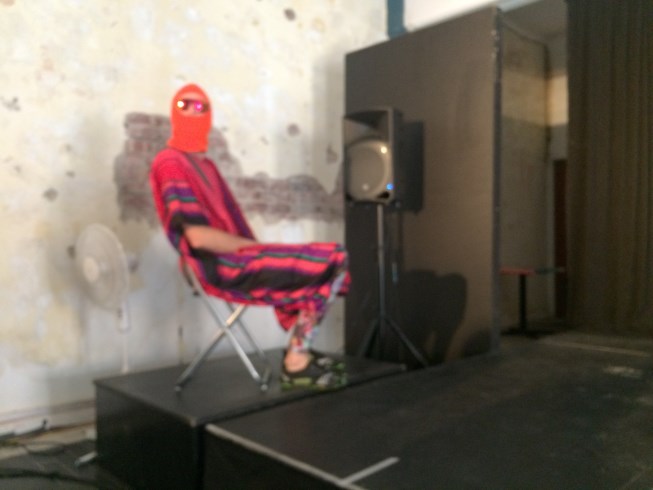 But whilst the bulk of the content of the performance had changed, one thing remained constant: Wakenshaw's imagination. His rampant creativity. And the edge-of-your-seat anticipation that you could be present at the birth of something completely original.
And that, alone, is worth the price of admission.
(18\2) Trygve Wakenshaw's NAUTILUS – a work in progress: A (nearly) completely different bucket of madness. Wall sex! #ff2015 #ADLfringe

— Pete Muller (@festivalfreakAU) March 15, 2015