[2015095] Marilyn Forever
Aventa Ensemble @ Studio 520, ABC Collinswood Centre
6:00pm, Sun 1 Mar 2015
The only show in the Festival's Gavin Bryars in Residence programme that I elected to attend, Marilyn Forever required me to take a bit of a trek out to the ABC Studios at Collinswood… a combination of the extra walking, a bit of opportunistic carb loading, and a weekend chock-full of wonderful emotions meant that – once again – I was a little bit dozy… initially.
But prior to the show, I'd wound up talking – as is my wont – to two gorgeous regular Festival-goers who come to Adelaide every year from Tasmania. I'd also investigated the seating arrangements at Studio 520 – there was the raked seating downstairs (that I'd used before during a Zephyr Quartet gig at the Studio), but I also discovered the upstairs section… and the view was a little nicer from up there.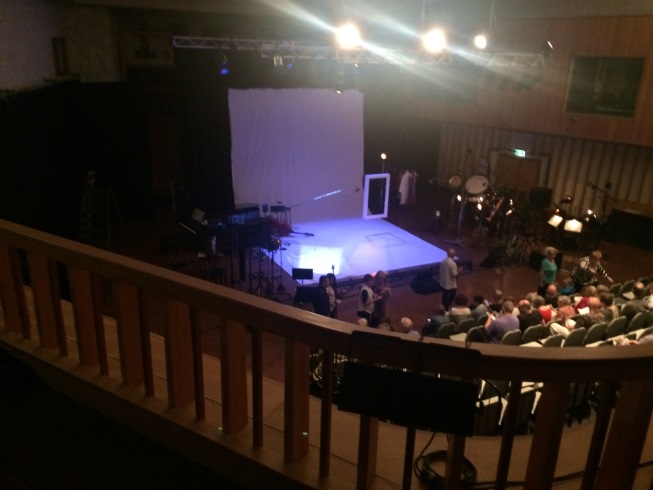 Marilyn Forever is an opera revolving around the night of Marilyn Monroe's death, with Marilyn (soprano Anne Grimm) onstage throughout. Flashbacks show us earlier stages of Monroe's life: from orphanages to her relationships, to battles with fame and inner demons. Curiously, baritone Richard Morris plays The Men in these recollections, and he morphs easily from sleazy agents to husbands Joe DiMaggio and Arthur Miller. Staging is plain – a great blank-canvas look, but also (I suspect) an homage to that dress, which Grimm also sports – and a jazz band and mini orchestra bookend the stage.
As mentioned, I settled into Marilyn Forever in a very sated state… and promptly dozed off, repeatedly struggling to open my eyes to see Marilyn lamenting whilst sitting on the floor, mournfully singing about depression or disappointment… and whilst Grimm had a great voice, it completely lacked the breathiness that typified Monroe, and that left me unable to engage. The music, while gorgeously constructed and well performed, rarely rose in tempo, helping me drift off…
But somewhere in the middle of the performance, my brain had obviously recuperated enough: I switched on, and suddenly I was transfixed. The last half of the libretto was fantastic, with the musical backing swelling to a wonderful climax. Having experienced that, I was pretty angry at myself for dozing in the first half; who knows what joy may have been contained therein.
(…well, lots of people know, actually: the ones who didn't sleep during the performance!)
(95) Marilyn Forever: Tiring weekend leads to dozy first half; melancholic second half lovely. Gorgeous swell to finish. #ff2015 #ADLfest

— Pete Muller (@festivalfreakAU) March 1, 2015